How to issue a receipt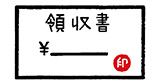 How to issue a receipt
Receipts can be issued at WASHHOUSE. Please check according to the payment method.
Payment by the cash
Please ensure to contact us before using. After confirming with our data, the receipt will be mailed to you later.
(1) Please contact the call center (0120-545-696).

Please inform us the store name (printed on the entrance automatic door), the machine number to be used (whether you use the upper or lower when using a two-stage dryer) and the price.

(2) We will confirm your expense at the call center.

Please insert the coins and wait for a while.

(3)After the confirmation, please provide us the information below:-

- Name on a receipt
- Address, postal code, name
- User name and contact phone number

(4) Please contact us at each time when you use both Washer and Dryer.

- Please contact when you inserted the coins additionally.

(5) You will receive the receipt by post later.

* If you do not receive it within a week, please kindly contact the call center (0120-545-696 available 24- hour) again.
Customers paid with WASHHOUSE App.
We would not send the receipts by post when you paid the service with WASHHOUSE App.
Please issue your receipt with WASHHOUSE App.