Services at WASHHOUSE
WASHHOUSE at your service
You can wash your beddings and sneakers, also remove the stain.
Can I remove the stain and wash the sneakers?
Can I remove the stain? Can I wash the sneakers?

We provide the stain remover for free and sneaker washer for your sneakers.
---
We offer variety of useful equipment at your convenience.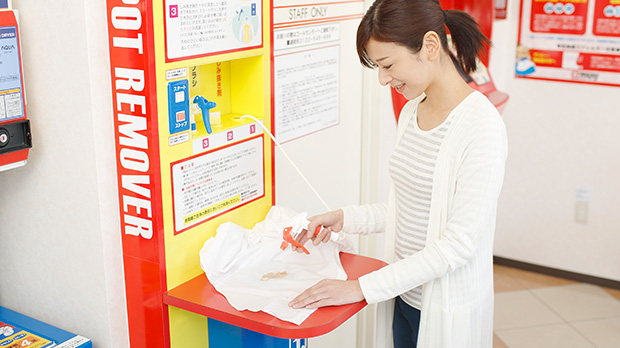 Stain remover
We provide the stain remover for free in our shops.
* It may not be available at some shops.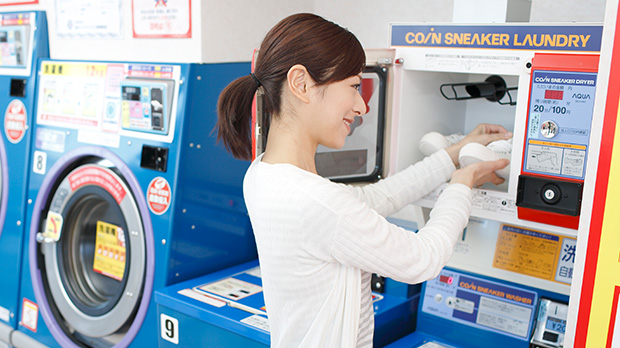 Sneaker Washer
It is time consuming and hard work to wash the sneakers by yourself. You can wash the adult sneaker and kids shoes in one cycle with Sneaker Washer!
What is an allergy countermeasure?
I have heard that coin laundry has a good effect on children's allergies, is it true?

You can prevent the allergies by washing and drying your beddings.
---
It is important to take measures against the mites for allergy.
The proportion of tick antigens such as dung is 80% or more in childhood bronchial asthma, and about 40% in adults. Furthermore, many allergens of allergic rhinitis are also related to the mites. It also might relate to allergic dermatitis.
The data has shown that the age of two is the most common for starting to show the mite allergic symptoms.
Once you have symptoms, it is difficult to cure allergies, which is why prevention is very important.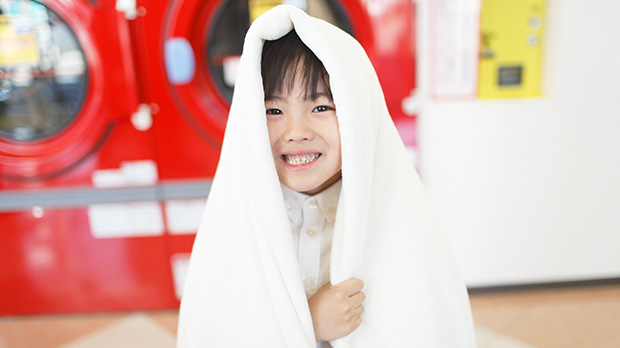 Washing your bedding is one of the preventive measures.
WASHHOUSE is also effective against allergens such as pollen and atopic dermatitis, in addition asthma which caused by the mites as allergens.Washing your bedding with large Washer, then drying at 70°C to remove mite carcasses, dust and pollen. By using a dryer, your clothes and bedding will be soft and fluffy and you can enjoy the smooth touch.
---
Pollen Allergy
In early spring, the symptoms of pollen allergy appear even when the windows are closed. This is because pollen have come inside the house. One of the reasons for this is to dry the laundry outside the house. Not to mention clothing, it is not possible to completely remove fine pollen by patting the mattress after sun drying. Therefore, it is recommended to use the large dryer of WASHHOUSE during the period when pollen is scattered.
You can dry clothes with strong warm air at 70°C while keeping them clean and wrinkle-free in short time. Since we spend long hours in our bedding every night, using a dryer makes it a soft and fluffy finish without being exposed to pollen in the open air. It is effective to prevent hay fever.